Contact Supplier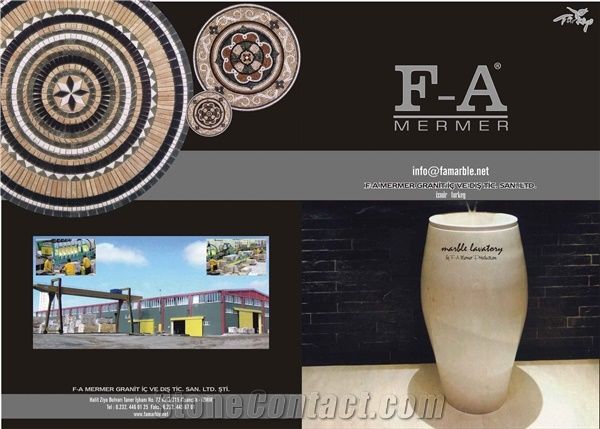 Company Name:
F-A MERMER GRANIT IC VE DIS TICARET SAN. LTD.
Business Type:
Natural Stone, Artificial Stone, Stone Service
Main Products:
Marble, Basalt , Limestone, Travertine, Granite Cube Stones, Pebble Stones
Verification Type:

12YR

We are one of the leading companies of natural stone industries in Izmir/ Turkey. We produce marble-travertine-limestone as tiles, slabs, and cut to size. We export our marbles to all over the world; USA, UK, HOLLAND, RUSSIA, ISRAEL, VIETNAM, CANADA, TAIWAN, KOREA, SINGAPORE, ETC. We deliver our marbles on FOB IZMIR FORT basis and CF PORT ANYWHERE in the world. If you are looking for Turkish marble, travertine, limestone and QUALITY, We are ready to supply your demands. Every order of our Customers is provided by our company in high quality and Competitive price. Please do not hesitate to contact with us for prices, terms, deliveries and any other requests like brochure, samples, etc.
OUR WEBSITES:
www.famarble.com
www.fagranitebasalt.com
Onsite Check
The supplier's company certificate has been verified by StoneContact.Com.

Verified Supplier
International Name
Local Company Name
Company Establish Date
Business License
Trade License
Existence Image